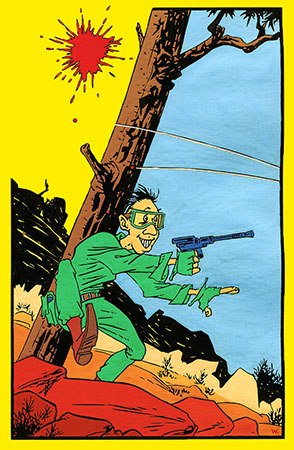 With more than 20 years of existence, the Cham Paint-Ball will be happy to welcome you.
Its playground of about 1 hectare (the largest in Chamonix), set in a wooded landscaped grounds, leaving a very natural appearance, is located 10 minutes walk from the city center.
Anniversary, company outings, bachelor party for boys (or girls), with family, alone or with friends, come and enjoy the pleasure of this sport.
Guaranteed sensations…
We are opened all days, but you need to call to book your reservation
(30 persons maximum, 12 years old minimum age)
For the little kids, see the outdoor Lasergame – +33 6 07 36 01 51
Prices
• 15€ / person
• 2€ for extra 50 balls
(no credit-card)
The prices include also the assistance to all players. We offer you different scenarios to make the game more interesting. A referee will always be with you to judge the game and sort everything out.
The game will last about 2 hours.
THE GUN
Semi-automatic gun.
FACE MASK
Elément de protection indispensable. Il protège l'ensemble du visage.
BALL PROOF VEST
Protect your chest and your back.

PROTECT CLOTHES
Protect your body and your clothes.
NECK PROTECTION
& PAIR OF GLOVES

Protect your neck and your hands, which are sensible parts.
BALLS
Gamer enemy. No toxic, biodegradable, different colors.
General
In a game of paintball, we have two teams. One plays against the other. Minimum three players per team. The game takes place in the terrain defined previously. In Chamonix, the games last around 2 hours. Each player has a gun that shoots the biodegradable balls. This is the way to mark and eliminate the players from the opposite team.
Objective of the Game
Eliminate all the members of the opposite team and the same time reach the objective determined at the beginning of the game (ex: catch the flag of the opposite team). You win the game when you reach the objective or when all the opponent players are eliminated.
How to recognize my team?
Each team uses clothes of different colours. Like that it's easy to distinguish them.
What happens when I'm eliminated?
All the eliminated players must go to a neutral area where they wait for the next match (each match = 10 min max).

Come and experience!


Discover what awaits you at Paintball Chamonix
A little bit of history…
The paintball was born in Australia. Over there, the shepherds found a way to mark all their thousands herds of animals. This method allowed them to stay on the top of their horses.
The invented some funny machines that fired some paint balls over the animals to mark them. The idea was then taken to the United States where the cowboys started to play with it between themselves.
The paintball was born!
The paintball was first seen in France in early 90's. And these days, paintball is seen as a sport…
Adrenaline, fun…
The paintball is also considered as leisure.
Paintball is not considered as a paramilitary activity, it's more like a "Cowboys and Indians" game for adults.
The practice of paintball doesn't require any specific physical preparation. The budget is small, and that's why paintball is very accessible to all kinds of people: men, women and children.
Paintball is a team sport, and you'll develop your group spirit and your reactions in hostile environment.
The reactions are unanimous… what an amazing sport!!!
Note: the balls are biodegradable.